Its August which can only mean one thing… it is my birthday soon (send all present parcels up north, please)! Nah, I'm just kidding BUT it does mean that the last months of Festival Season are well and truly upon us only being helped along by a smattering of heatwaves- YAY FOR GLOBAL WARMING- and a flood of  fresh music. We've heard new tracks from the likes of old favourites such as Bloc Party, Animal Collective and Tame Impala (Just me who was disappointed by the former? Oh Kele…) this month, but here is what I've had on loop all through July as I ran away, sat on beaches and spent too much time proceeding to dye my hair innapropriate colours. For the first time (I think) this month's playlist isn't exactly 100% praising the tracks I chose, more like disecting into certain artists that I'm a huge fan of anyway and to look forward with baited breath to what their new stuff will bring and basically, upping their game- even if I can't stop getting my gun fingers out (HI IGGY AZALEA, I'M LOOKING AT YOU). So, as ever, I hope you enjoy! X
Baauer
Little is known about Brooklyn beat-maker Baauer, having only released a handful of his own personal work online but what really caught my eye about this mysterious figure was his fantastic re-working of First Aid Kit's 'Winter Is All Over You', who knew a Swedish folk Sister pairing when combined with an illusive NYC dance artist would be a match made in heaven? Fusing together the original emotional depths of the track itself together with a renewed, heightened, atmospheric concept, he really has hit the nail on the head to allure in a whole new audience, without overworking the track into an unidentifiable disarray. Having stuck to his own genre circles in the past taking his remixing wand to the likes of Abel and Obey City, it's refreshing to see a producer of this kind stepping out of the shadows and constructing work that could, yet thankfully hasn't, distanced him from a usually quite interlinked scene and for that, we're tipping our hats in your direction, Bauuer.
Iggy Azalea
Australians aren't exactly known for their imprint of hip-hop within the world but it looks like prime-polished diva Iggy Azalea is here to change that. Firstly, Iggy (real name Amethyst, like, how amazing?!) has made a title for herself pretty well already after her YouTube freestyles went viral back in 2011. Hell, the girl is only just 22 so waiting around certainly doesn't seem to be on the agenda as she is also set to release her latest EP 'Glory' any given day now. In between also modelling under Wilhelmina Models, dating A$AP, making blinding tracks with Steve Aoki and having beef with Azealia Banks, her latest video to leak online is lead single 'Murder Bizness' taken from her forthcoming full-length 'The New Classic', merging gangster mentalities' with a slice of slickness, it's a showcase to those listening that she is certainly taking no prisoners when it comes to her game as most female rappers these days (Ahem, Miss Banks) opt for a radio-friendly dance stance, 'Murder Bizness' even has a satirical tongue in cheek poke at a Toddlers & Tiaras themed video making for a clever metaphorical direction, along with a little help from, er, TI. Sounding a whole lot more filled-out than her past releases such as 'PU$$Y', here is to hoping that 'The New Classic' is a fresh melting-pot of her earlier ideologies and modern found hustler persona. Oh and if your infatuation with her is growing ever more like mine is, Noisey did a Q&A with her over at her debut UK show at Birthdays in London which you can check here.
Karma Kid
Is it me or are dance prodigies getting even younger these days? Karma Kid is the work of 17 (Yes, you read right, do not adjust your screens) year old Sam Knowles from Matlock, Derbyshire congregates together Sunshine-worthy mixes full of 808 beats and soulful vocals, making it difficult to comprehend that this youngster isn't even legal over these shores to enter even the most laid-back clubs, yet manages to blast out a youthful essence of hits that wouldn't sound a smidgen out of place when played across some of the Country's biggest and best dub nights. Oh and my personal favourite 'It's Always' samples a seven-year-old Ray J track of which I didn't even realise until listening to the release on repeat for two weeks straight- not necessarily a bad thing as many producers twice his age couldn't execute such a feat with undeniable skill, it just goes to show that this boy has certainly got flow…
Crystal Castles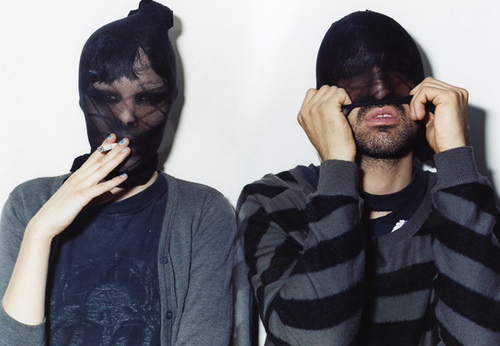 Crystal Castles, weather you like it or not, are always going to be around, let's face it. Seen as the anarchic face of industrial, experimental dance over the last half-decade (Yeah, I said it) Ethan and Alice, have never exactly broke through to the commercial cross-over side that everyone expected, even with the help of her endless fashion campaigns and their non-stop touring but is this necesarilly a bad thing? I think not, why not let them live out their cult following? I hardly think they'd be happy selling-out to a Shockwaves advert a la Chromeo, I mean, could you see the pair endorsing the next dire milking-every-orgasm-face-for-all-its-worth (you know the one I mean) Shampoo ad? There you have it, they are back with a vengeance and everyone over the age of thirty with a disapproving snarl and raised brow is going to have to accept it. Latest leak 'Plague' doesn't shy away from factors that fans and critics alike have delivered praise upon with their past work, emerging with shards of audacious electronica,  ethereal motifs and a unexpected combination of refining instrumentals come the bridge that is all well and good, yet CC seem to be making their third album as yet another continuation on from their second full-length release as Alice's Celestica-esque vocals appear to be outbrashed by the synths this time around, as apparent on the introduction yet the track manages to hold its own-albiet only just- to completion. Only time will tell but I for one will be crossing my fingers and toes for an influx of what we fell in love with them first time around as they hopefully, take a no-holds barred approach to their next release.
Purity Ring
Purity Ring have been atop many bedroom bloggers hype lists for a good while now and have been playing out snippets from their debut 'Shrines' out live thanks to a non-stop worldwide touring schedule for the best part of 2012- and its certainly justifying the hype. Ugh, 'hype', such a fatal word for many but thankfully the pair have pulled it off. 'Shrines' is a stunning amalgamation of art combining blissed-out electronics perfectly with sonnets of love, life and death. Lyrics evoking trips of living inside sternums, lovers affection and the odd dark warp here and there may sound like what you would expect from a band named after a piece of religious chastity jewellery but it really is unlike anything you've heard in a long time. Matthew Britton composed a brilliant review on this very site and I reviewed the record myself over on my blog, we both praised the work to the high heavens and I'd bet my next student loan that you're there with us agreeing, take a listen and decide for yourselves but I, for one, am scorchingly head over heels.
Words: Leah Connolly